In today's travel-driven age, having a portable cooling solution is paramount. According to Statista, as of 2022, over 60% of Americans traveled for leisure, highlighting the demand for convenient amenities.
120-240V, 12VDC, Battery, Solar
Car cooler, portable freezer, any power. These aren't just buzzwords; they define the future of travel convenience.
Car Cooler for the Modern Traveler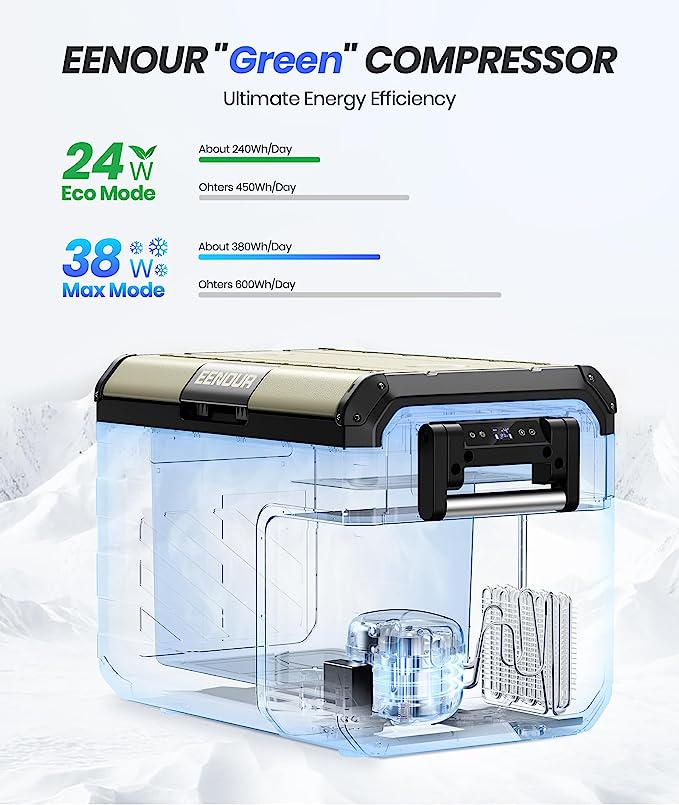 Statistics have shown an upward trend in camping and road trips, with travelers seeking portable amenities. Enter the EENOUR 12 Volt Portable Refrigerator Freezer - a versatile solution for your cooling needs. This isn't just any regular cooler; it's the modern traveler's best companion. It operates seamlessly between 120-240V, can be powered by a 12VDC source, and even supports battery and solar-powered operations.
Portable Freezer: A New Dimension of Freshness
It's not just a cooler, with a cooling range of -4 to 52 F, it's also a portable freezer. And believe me, it can freeze. In fact the only complaint I have with this cooler is that it cools almost too well. Check on the temperature once in a while, especially if moved from car to indoors.
Some Nice Features
Versatility: Whether you're on a road trip, at a picnic, or setting up camp, this portable freezer offers flexibility with power options ranging from traditional plug-ins to solar energy.

Efficiency: With its advanced compressor technology, the EENOUR ensures that your perishables remain fresh, making it an essential addition to your travel gear.

Durability: Built for the road, its sturdy construction ensures longevity, even with the occasional bumps and jostles of traveling.
Any Power: Adaptability at its Finest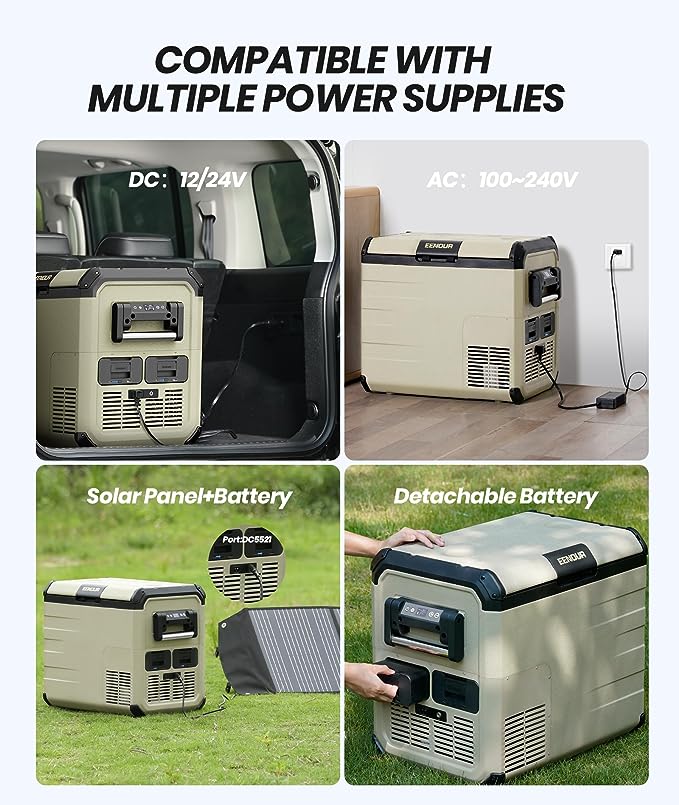 One of the standout features of the EENOUR 12 Volt Portable Refrigerator Freezer is its adaptability. Not only can it be powered using conventional means, but it can also harness the sun's power. With this kind of flexibility, it truly meets the needs of a diverse audience - from the regular picnicker to the passionate camper.
And with up to two optional 171Wh batteries, you can run without external power up to 25 hours. You can charge USB devices directly from the batteries!
In other's Words
"Quality is remembered long after the price is forgotten," says Aldo Gucci, emphasizing the importance of investing in quality products.
As a 5 star Amazon review, "I took this camping for a week. I would plug it in during the day and let it run off battery during the night. I used one battery and it lasted over 12hrs on eco mode, and it kept everything cold even in the summer heat! The drain plug is great for cleaning out. And the big handles make it super easy to carry."
Conclusion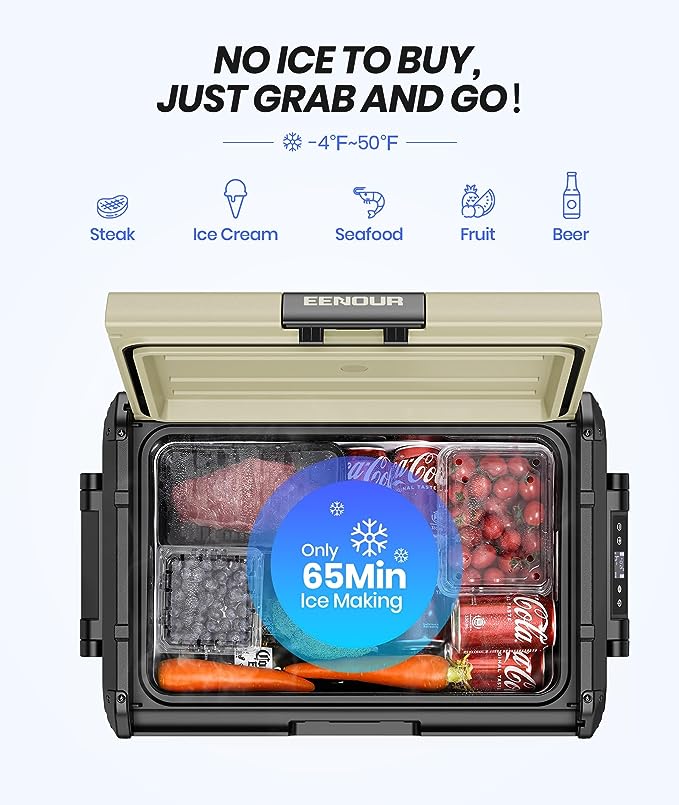 For travelers, picnickers, and campers alike, the EENOUR 12 Volt Portable Refrigerator Freezer is more than just a luxury—it's a necessity. With unmatched versatility in power options, coupled with its portability and durability, it's truly a game-changer in the world of travel amenities. Investing in such a product not only ensures fresh food and beverages but also adds a layer of convenience and comfort to your adventures.